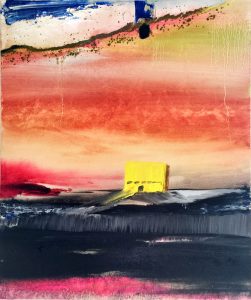 Judul : "Warnaku Menuju Kesatuan"
Ukuran : 50 x 60 cm
Tahun : 2017
Media : Oil on Canvas
Pelukis : Hudik Prayogodz
Kolektor : Shukufuku Galeri
Catatan :
Bumi diisi dengan amarah warna merah dan bumi ditutupi kesesatan / warna hitam. Simbol peradaban hanya memperturutkan nafsu belaka / warna kuning. Langit pun setali tiga uang dengan keadaan bumi, dimana hanya amarah, keinginan berkuasa / warna merah hingga menuju coklat dan hanya sedikit saja menggunakan hati dan pikiran / warna hijau.
Seluruh daya upaya manusia hanya bergantung pada nafsu belaka/ simbol gantungan dilangit warna hitam. Sedangkan pikiran manusia dibatasi garis hijau dilangit yang tidak bisa menembus hati dan pikiran yang bersih/ warna langit biru dan putih.
The earth is filled with anger of red and the earth is covered with darkness / black color. The symbol of civilization merely indulges the lust / yellow color. The sky was the same money with the state of the earth, where only anger, desire to red / red to brown and only slightly use the heart and mind / green color. All human effort is only dependent on lust / black hanger symbols. While the human mind is bounded by the green line in the sky that can not penetrate the heart and mind of the clean / blue and white sky color.
Harga :
Rp. 80.000.000,- (Delapan Puluh Juta Rupiah) / USD 5,333.-
Contact Person : (herry cahya putra - 081288187658; email: [email protected])